Activities
28 Jan 2017 - 7 May 2017
Nederlands Fotomuseum, Wilhelminakade 332, 3072 AR Rotterdam
Europe. What Else?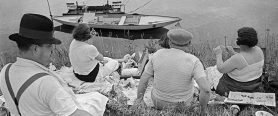 This spring, the Nederlands Fotomuseum shows that the work of photographers can make a positive contribution to the debate on Europe. Amid the often dismaying discussions about the future of the Union, it can incite us to examine the situation carefully before jumping to conclusions. Europe. What Else? challenges the visitor to take a broader view of Europe.
It is with this in mind that photographers Nico Bick and Otto Snoek have set out to record aspects of contemporary Europe. Each does so in his own particular way. Bick has systematically documented the interior of every parliament in the European Union, while Snoek has mingled with the crowds in countless European cities in order to snap people on public occasions.
Their differing approaches have produced the two projects about to be premiered at the Nederlands Fotomuseum: Parliaments of the European Union and NATION. The museum is adding an extra dimension to the exhibition in the form of French photographer Henri Cartier-Bresson's renowned 1955 photo-series The Europeans (Les Européens), never previously exhibited in the Netherlands.
The exhibition will therefore unite three different visions of photography: the humanist reportage of Henri Cartier-Bresson, the reflective, typological approach of Nico Bick, and Otto Snoek's rapid-fire, razor-sharp observations.
None of the three projects delivers a judgment for or against Europe. But all provide a more profound and nuanced picture than the image usually conveyed in the political discourse or media. Europe. What Else? challenges the visitor to take a broader view of Europe.
This exhibition will be held from 28 Jan. till 7 May 2017.
You can click HERE for the website.